Corporate Profile
Milestones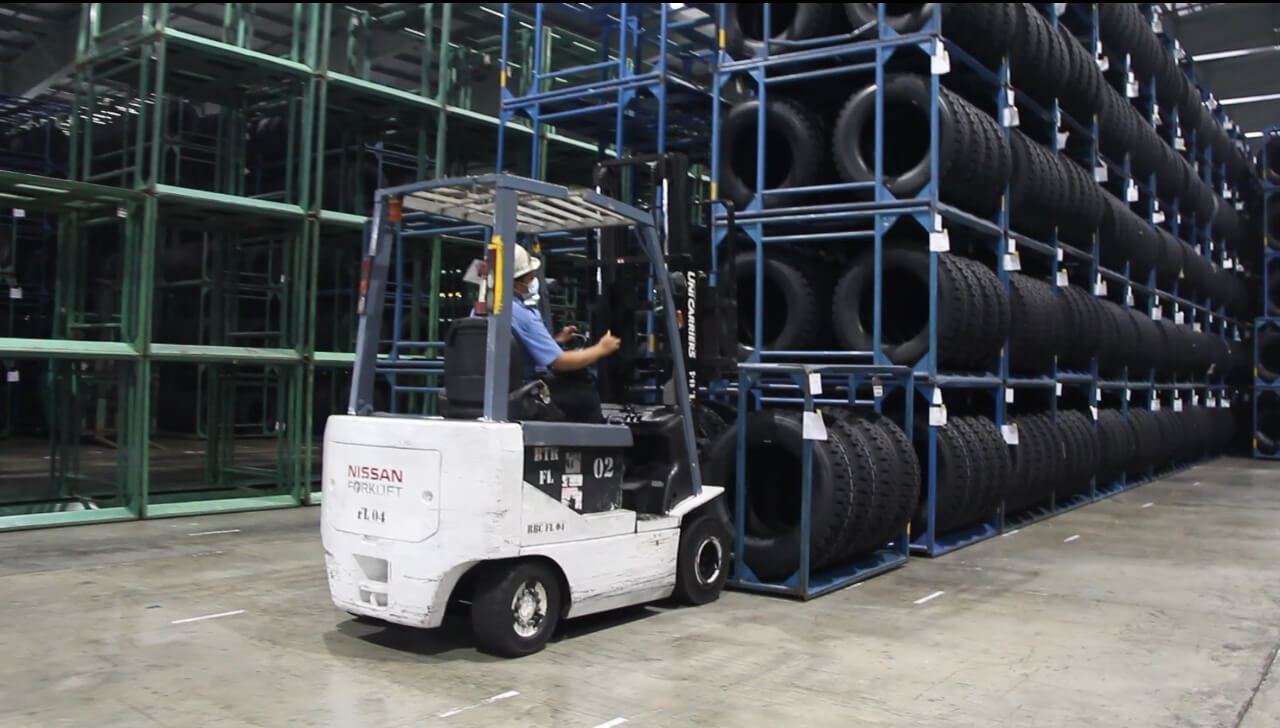 1951
PT Gajah Tunggal was established to produce and distribute bicycle tires and inner tubes.
---
1971
Technical assistance agreement was signed with the Inoue Rubber Company of Japan to produce motorcycle tires.
---
1981
The Company started producing bias tires for passenger and commercial vehicles with technical assistance from the Yokohama Rubber Company of Japan.
---
1990
PT Gajah Tunggal Tbk was listed on the Jakarta and Surabaya Stock Exchange.
---
1991
PT Gajah Tunggal Tbk acquired GT Petrochem Industries, a producer of tire cord (TC) and nylon filament.
---
1993
The Company started commercial production of radial tires for passenger cars and light trucks.
---
1995
PT Gajah Tunggal Tbk acquired Langgeng Baja Pratama (LBP), a steel and bead wire producer.
---
1996
PT Gajah Tunggal Tbk acquired Meshindo Alloy Wheel Corporation, the second largest manufacturer of aluminum alloy wheels in Indonesia. PT Gajah Tunggal Tbk's main subsidiary, PT GT Petrochem Industries, expanded its operations to include synthetic rubber, ethylene glycol, polyester filament and polyester staple fiber.
---
2001
The Company entered into a manufacturing agreement with Nokian Tyres Group, a leading tire manufacturer based in Finland, to produce a selected range of passenger car tires, including winter (snow) tires, for markets outside Indonesia.
---
2002
PT Gajah Tunggal Tbk completed its restructuring arising from the Asian financial crisis, enabling the Company to lower its debt burden by more than USD 200 million and converted debt into FRN.
---
2004
Completion of Corporate restructuring in which PT GT Petrochem Industries was deconsolidated, and at the same time acquired its assets of TC and Styrene Butadiene Rubber (SBR). Divestment of Steel Wire Producer Langgeng Bajapratama. Start of the off-take agreement with Michelin where Gajah Tunggal produces tires for Michelin, for the export market. Launch of TireZone outlets.
---
2005
The Company issued a USD 325 million Global Bond, and used the proceeds to buyback some of its notes as well as to finance the expansion. Divestment of aluminum alloy wheels producer Meshindo Alloy Wheel.
---
2006
PT Gajah Tunggal Tbk was awarded "Best Managed Company in Indonesia" by Euromoney Magazine.
---
2007
Additional USD 95 million Bond re-tap, to finance the remainder of the expansion as well as capital expenditures relating to its research and development activities. The Company also re-entered the equity market with a 10 to 1 Rights issue, totaling Rp 158.4 billion (around USD 17 million) for working capital needs.
---
2008
The Company received the Primaniyarta award from The President of Republic Indonesia. Michelin off-take reached 2.8 million tires.
---
2009
The Company successfully completed an Exchange Offer of its outstanding bonds. Gajah Tunggal also was the proud recipient of numerous awards, most notably the 'Anugerah Produk Asli Indonesia' Award 2009 from Bisnis Indonesia. The Company also achieved ISO 14001 certification for its management systems.
---
2010
Launch of Champiro Eco, Indonesia's first eco friendly tire, by Indonesia's Minister of Trade Ms. Mari Pangestu. The Company's consolidated sales surpassed USD 1 billion.
---
2011
Gajah Tunggal exported more than 10 million radial tires, and surpassed the Rp 10 trillion in net sales. Named "Top 10 – best managed companies" by Finance Asia and "Top 10 – best big companies" by Forbes Indonesia.
---
2012
The Company received various awards such as the "Indonesia's Best Mid-cap Company" from FinanceAsia, the Primaniyarta award in category of "Global Brand Development" from the Ministry of Trade, and "Indonesia's Trusted Companies" from SWA magazine. Gajah Tunggal also acquired plots of land in Karawang to facilitiate a proving ground and future business expansion.
---
2013
The Company issued Senior Secured Notes amounting USD 500,000,000 maturing in 2018 with a coupon of 7.75% per annum. The Notes were used to entirely redeem the Callable Step-up Guaranteed Secured Bonds due in 2014 with a principal amount of USD 412,495,000. The remainder of the proceeds was used to fund capital expenditures.
---
2014
The Company started the construction of a new Truck and Bus Radial (TBR) plant. The Company is the pioneer in TBR technology in Indonesia.
---
2015
For the fifth time, The Company received the Primaniyarta Award.
---
2016
Launched GITI TBR Tires. Inauguration of Gajah Tunggal Proving Ground in Karawang.
---
2017
The Company entered into a Senior Secured Syndicated Facilities Agreement with various banks amounting USD 210 million and Rp534,200 million and issued Senior Secured Notes due 2022 with a coupon of 8.375% amounting USD250 million. The Company used the net proceeds of both instruments to fully redeem the Senior Secured Notes due 2018.
---
2018
PT IRC Gajah Tunggal Manufacturing Indonesia, a joint venture between PT Gajah Tunggal Tbk and Inoue Rubber Company (IRC), is established to produce specific high performance motorcycle tires.
---
2019
The Company received the PIMANIYARTA Award for the seventh time, and also received EDGE certification that the company has applied the gender equation.
---
2021
On February 26, 2021, the Company entered into a new syndicated loan facility agreement amounting to Rp 1,325,000 million, which the Company used to repay the Senior Secured Facilities due 2022.
On June 23, 2021, the Company issued new bonds (Senior Secured Notes due 2026) amounting USD 175,000,000. The bonds are listed on the Singapore Exchange Securities Trading Limited. The Company used the net proceeds of the USD 175,000,000 Senior Secured Notes due 2026 and a 7-year IDR 1.451 trillion Senior Secured Term Loan to redeem the Senior Secured Notes due 2022.